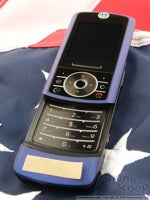 Just the other day we reported on Engadget Mobile's hands on experience with the next version of the Motorola RAZR, codenamed Canary. Looks like Moto's got more than one trick up its well-tailored sleeves. PhoneScoop's gotten some quality time with a slider version of the RAZR, codenamed Capri (as in pants? sun? what?).
Though the model they looked at was pre-production, they have nice things to say about both the hardware and the software.
Measuring 17mm thick, it's 3mm thicker than the RAZR, but that's to be expected given the extra room needed for the slide mechanism that runs most of its length. It's also 14 grams heavier than the RAZR, but I still wouldn't call it heavy, and the extra weight keeps it from feeling cheap. There was a slight amount of wiggle in the slide mechanism when open, but I didn't notice it until I checked for it; in everyday use the mechanism feels very well-constructed.
The Capri is a quad-band GSM phone, which would seem to plug it for either T-Mobile or Cingular when it sees release (sorry Verizon/Sprint customers), whenever that will be.
For those of you wondering about the flag, it's a World Cup thing.
[via Engadget ]