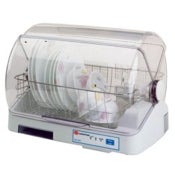 It's always good to ask yourself important questions, like: "do I need a heated dish drying rack ?" It's also important to answer those questions honestly: "Yes. Yes I do." Our house does have a dishwasher, but his name is Dan and honestly, Dan can only do so much with dishes when the rack is full and the dish towels that could be used for washing are damp and dirty.
One would hope that introducing the power of electricity to dish drying could solve my problems by speeding up the whole process, but really, it's impossible to say. The dryer, which costs about $70, can hold "up to 4 large size dishes, 8 medium size dishes, 6 small dishes, and 6 sets of chopsticks." I only have 4 sets of chopsticks—do you think that will be a problem?
I think I might save the cast to invest in a dishwasher proper (I shall call him Bob ).
[via Oh Gizmo! ]