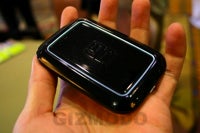 I missed the initial announcement on Seagate's Digital Audio Video Experience (DAVE) device the other day. No excuses; I just fell down on the job. Mea culpa . I'm here now, though, and I intend to make up for it. Here's the deal.
DAVE's a small device that contains storage (in the form of a 10-20GB hard drive), along with Wi-Fi and Bluetooth. Its end goal is to become a storage place for your portable devices, such as your cell phone; you can transfer data back and forth off the DAVE via wireless. There's also a small mini USB port on one side, should you choose to go the wired route (and, presumably, to charge this thing). The device itself is pretty tiny: it weighs 2.5 ounces, and measures just 3.5 x 4.7 x .47 inches. They claim that the rechargeable lithium battery will last ten hours in use , and 14 days in standby.
While packing all that technology into a package that small is impressive, the question remains as to how useful people will find this. While 10-20GB is a big boost on the currently available capacity of cell phones, it doesn't sound like it would be that useful for portable media players, most of which hold much more data. As for mobile phones, if people are going to carry two devices anyway , why not carry a media player along with your phone? Robert Scoble thinks it'll be handy for the iPhone —a good idea, but a rather limited market.
Seagate's not selling DAVE outright, but rather is promoting it as a platform for partner companies to take advantage of. No price at the moment, but availability is targeted for second quarter.
[via Gizmodo ]