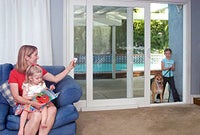 When I was a kid, I thought automatic doors were the bee's knees. I mean, they were right out of Star Trek , you know? I loved going in and out of the front door of my grandmother's apartment complex; I could easily have spent hours there.
Now that I'm grown-up older with a place of my own, I dread opening and closing my doors with conventional doorknobs—it's just lacking somehow. So my eyes lit up when I saw this remote-controlled Sliding Patio Door System. You can changeover your own patio door to work with a hand-held or wall-mounted remote. Press a button and whoosh , the door just slides open and then closed again.
Not only could I have hours of fun opening and closing my own patio door by remote (or, even better, the remote control key fob option ), but it's a great way to play with pets—don't worry, there's a sensor to detect whether or not an obstruction is present, so Fluffy won't get hurt. Just $299 buys you a little piece of the future, in either right- or left-sliding models.
[via Gizmos for Geeks ]