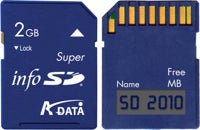 I was having a conversation with my girlfriend the other day about how I'd like it if the new subway ticket system they've implemented in Boston had cards that would display the amount of balance remaining on them.
Taiwanese company A DATA may have had agents in the area, for they've taken that idea and run with it, announcing " info SD," an SD memory card that will show on a "bi-stable" display how much capacity is remaining on the card. The display is static, updating only when the card is inserted into a reader or other device. While pricing has not yet been announced, the card is expected to make its debut at CES in January—it's already been given an Best of Innovations award.
This seems like an exceptionally useful idea, although I'm sure it will be priced at a premium over standard SD cards. But someday it may all be standard—hopefully by then, I'll be able to know how much balance is left on my stupid subway ticket.
[via OhGizmo! ]