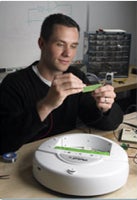 Having finally realized that you just can't keep a good hacker down, iRobot has released a programmable version of their crazy popular Roomba household robot called the iRobot Create. Want to make your mechanical slave do more than just vacuum the floor? This version ships with an easily accessible serial port, thirty built-in sensors, and expansion ports for adding your own additional features (lasers? Please say lasers).
A number of add-ons are also available from iRobot's site, including the command module, which enables "full programmability" and has four DB-9 ports for expandability. You will need some computer programming experience to get the most out of your robo-buddy—it can run programs in C or C++. And it seems to be limited at the moment to Windows XP access, especially as it requires a serial port. Still, if you're determined to create your own robotic friend, or just want to chase the cat around, I wouldn't let that stop you. If you've got a dream, man, you've got to follow it .
[via Gizmos for Geeks ]
Note: When you purchase something after clicking links in our articles, we may earn a small commission. Read our affiliate link policy for more details.