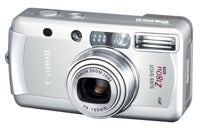 Imagine a world in which you can't look at your photographs immediately after taking them. Where deleting them is an all or nothing affair that requires pulling open the back of your camera in bright sunlight. Horribly archaic, right?
Pretty soon, the realm of film may be relegated to history books and old movies. Reuters is reporting this morning that Canon is considering dropping its line of traditional film cameras . They wouldn't be the first to head down the filmless path; Nikon announced earlier this year that they'd be ceasing production of film cameras.
Before all you film fans out there start threatening to flashbulb me to death or swallow my soul, let me say that I don't think film is completely dead. However, the market, as Canon points out, has shrunken vastly and digital is definitely the de facto standard. Just this week, my mother came to me because the camera battery in her Pentax 35mm was dead and she and my father were leaving for vacation. I insisted she take my old Olympus digital which I'd given them last year, but had been collecting dust on a shelf. I'm curious to see how it went—as we know, mothers are the bellwether of the tech industry; as they go, so goes the nation.
[via Engadget ]