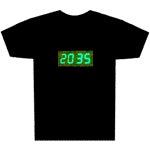 Tired of people constantly asking you what time it is? Burdened by a watch? Able to read backwards numbers in a mirror or shiny piece of glass? Sick of these incessant questions?
You, my friend, may be a prime candidate for the Digital Clock T-Shirt. Confused? Let me explain. It's a digital clock and a t-shirt combined in one snug package. For just $59.95 (plus the cost of 4 AAA batteries), you can be tossed screaming from a fourth floor balcony the life of the party.
If that's not enough to sell you, perhaps you need a little star power, courtesy of the Digital Clock T-Shirt's product page.
You remember Flavor Flav from the rap group Public Enemy, right? He was the "zany, kooky and straight-up wacky" one who wore big clocks around his neck (and top hats) to prove he could always "tell people what time it was"?
Ah, yes. Summoning the memory of beloved rapper Flavor Flav will close this deal like a bear trap around the ankle.
[via Gearlog ]