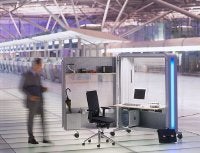 If you only occasionally have a need for an office, the St@ndby (click on St@ndby) is just the thing. You can easily pack away the essentials for an office and store them until you actually need to work by folding the entire structure. I can think of more than a few lazy bums busy professionals that would love this.
You've also got to love it for the fact that the stock photos feature a Mac and Apple display prominently stored inside. How sad is it for that Mac to be stored away in such a humiliating way? He yearns to suck fresh air though his case.
[via Gizmodo ]
Note: When you purchase something after clicking links in our articles, we may earn a small commission. Read our affiliate link policy for more details.