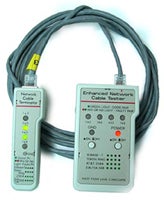 I gotta say, I admire a gadget that does exactly what it says on the box. In the words of the late Mitch Hedburg: "I'd like to name kitchen appliances. You just take what it does and add -er on the end. This keeps your food fresh. It's a fresher . I'm going on break." And so I bring you the Network Cable Tester, whose sole purpose is making toast . Really, $40 can't buy you a better toaster.
Okay, so it's not a toaster. Which is fine. But it will test your 10Base-T and 100Base-T networking cables and tell you if you have any serious issues that would make your network, um, not work. I hate troubleshooting my connection to the Internet and discovering that a bum network cable is at fault. Especially after a hair-tearing two hours.
Of course, you could always just try plugging in a different network cable, but then you wouldn't have this cool box with flashy lights on it!
[via Gizmodo ]