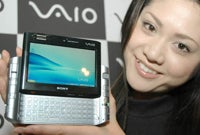 After a day's fevered speculation, Sony has bared all with its VAIO type U VGN-UX50 UMPC, which will go on sale May 27 for ¥170,000.
So what do you get for that, apart, obviously from the QWERTY keyboard? Well, the Win XP-powered 150.2 x 95~100.5 x 32.2~38.2mm, 520g box of tricks has a 1,024 x 600 dot, 4.5in WSVGA LCD to look at (alas, no big 7-incher), and a Core Solo U1300 (1.06GHz) processor, 512MB of memory, a 945GMS Express chip set and a 30GB HDD in its innards. You also get a couple of cameras, a USB2.0 port, one Memory Stick Duo (Pro Duo) port, a CF card slot, 802.11a/b/g, Bluetooth 2.0 +EDR, a FeliCa IC card reader and, yes indeed, a fingerprint reader.
Sony's key sales points seem to be that it's a fast starter (5 seconds to action from standby) and won't drain you or the battery, which is rated at 3.5 hours. For more specs and options, see the Sony release below.
(Via Sony [Japanese]; MT here )
[ Paul Kallender, Digital World Tokyo ]
Dan's Thoughts: Not that we're becoming Sony shills or anything. Sony's entry into UMPC looks interesting—and different, compared to some of the previous products (QWERTY keyboard, especially). If anybody has the design chops to pull of the UMPC, it's probably Sony. Stateside, we'll have to wait and see.