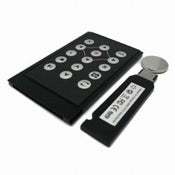 When you're traveling, it can be hard to find a space for all your extra gadgets and doohickeys, so it's always nice to consolidate a bit. Take the PCPAL "3-in-1" as an example. It packs an RF remote control, laser pointer, and a wireless mouse into one convenient little package.
Sure, it might not be quite as nice as the dedicated alternatives, but it's a heck of a lot smaller. So small, in fact, that you can store it inside your computer PCMCIA slot. The only downside there is that no current Mac models have a PC slot, and I don't think it'll fit in the MacBook Pro's ExpressCard slot. But it's still plenty small. And it claims full compatibility with Windows, Linux, and OS X.
It's on sale right now for $40 (down from $80), which is quite a steal, even if you don't have a PC card slot on your laptop.
[via Engadget ]