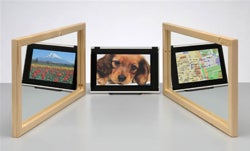 Oh you clever technologists, you. What's better than KVM switch alternating between three different systems on one display? Why, one display that can handle three different displays simultaneously , depending only on your angle of viewing. In this case, those images are a map, a mountain, and a puppy. I'm crossing my fingers that it's got wider applications than that.
It's a pretty crazy technology; Sharp showed off a dual-angle display last year, using the same method, which involves a "parallax barrier," a device I was fairly certain only existed in Star Trek . I'm curious to know just how good these are; i.e., at what angle does the next image kick in and, like those lenticular pictures, is there a point at which you can see parts of multiple images? Not to mention that many displays have problems being viewed at an angle already , so will the images on the "sides" of the display always be off-color? I need answers!
[via Slashdot ]
Note: When you purchase something after clicking links in our articles, we may earn a small commission. Read our affiliate link policy for more details.