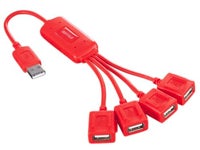 Here's a cool idea. Rather than trying to plug all of your USB devices into one little box on your desk, take a cue from nature and design a hub that looks like a squid. That way, you don't have to worry about oversized USB plugs blocking off more than one port. I've seen similar ideas applied to power strips.
Buffalo's introducing two versions of this hub, a two-port and a four-port. They'll go on sale in Japan (of course) at the end of this month, for approximately $17 and $21 respectively. I hope they make their way to America. Perhaps they could swim?
[via Digital World Tokyo ]
Note: When you purchase something after clicking links in our articles, we may earn a small commission. Read our affiliate link policy for more details.