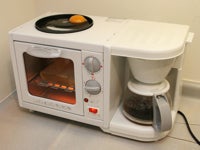 And the theme for the rest of the day is convergence. Why have a gadget that can carry out just one pathetic function when you could have one that carries out seven . Or, in the case of this breakfast machine, three (actually, since that link is in Japanese, we can't guarantee that it doesn't also turn into a giant robot or something). At least they're connected functions, unlike my Swiss Army Knife/Watch (I'm still nursing a nasty flesh wound from that sucker).
The breakfast machine has a toaster, a coffee maker, and a hot plate in one shiny-white Apple-inspired package. Perhaps we could call it the iBrekkie. Nah, I'm sure that's taken already. With this clever device, you can fry up an egg, fire up some toast, and, er, perk up some coffee all at the same time. And when I say you , I mean you. Seeing as how we can't run the microwave and anything else at the same time in my kitchen without blowing a fuse, I'm pretty sure the 3-in-1 Breakfast Wonder is out. And here I was, in the mood for coffee-flavored egg toast. Bummer.
[via SCI FI Tech ]
Note: When you purchase something after clicking links in our articles, we may earn a small commission. Read our affiliate link policy for more details.