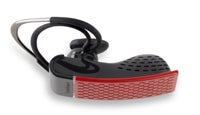 I did buy a Motorola Bluetooth ear piece a while back, as you may remember, but I find myself fairly dissatisfied with it. For one thing, it's big and clunky, and for another, its battery seems to wear out pretty darn quick. But most of all, I think I need to bring the sexy back.
The newly redesigned Aliph Jawbone fulfills at least part of that. This is possibly the slickest looking Bluetooth headset I've ever seen—but it's not just a pretty face, nosiree. The Jawbone integrates military-grade noise-cancelling technology , just in case you happen to waltz into a combat zone. Its $120 pricetag might seem a bit steep, but did you read what I just said? Military-grade . It's available from Cingular in silver, with black and sexy red offerings on their way direct from the source.
[via SCI FI Tech ]
Note: When you purchase something after clicking links in our articles, we may earn a small commission. Read our affiliate link policy for more details.