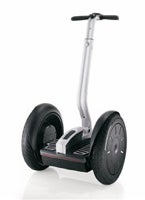 [ Emru Townsend at Digital World writes: ]
Remember the Segway Human Transporter, the two-wheel, battery-powered standing sorta-scooter that promised to transform city traffic? (Okay, so it didn't work out that way, but they were still a pretty cool way to spend that extra couple of grand you had burning a hole in your pocket.)
Today, Segway announced two new models: the i2 (which, like the original Segway HT, is for street use) and the x2 (the 'all-terrain' model, for traveling over things like gravel, grass and sand). The models sell for $4,995 and $5,495 respectively. The big difference? Segway's new LeanSteer technology. The handlebar inclines with you as you lean to the side, which in turn steers the Segway. Like the lean-forward-go, lean-backward-stop mechanism of the original Segway, it provides a more intuitive way of driving.
Dan's Thoughts: Having actually gotten a chance to ride a Segway at one of my friend's former workplaces, they're pretty damn cool. If only they didn't cost five thousand dollars .
Note: When you purchase something after clicking links in our articles, we may earn a small commission. Read our affiliate link policy for more details.