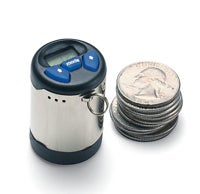 I spend a lot of time popping quarters into parking meters and yet even more time paying my parking tickets. How is that? Well, once you've gotten into a coffee shop and plopped down with your laptop and started to work away, I have a tendency to find myself engrossed in my work—can you blame me? Sure, I could set myself an alarm on my watch, but it's a little tricky—I'm pretty sure that I'm still boiling an egg from October.
To combat my inherent forgetfulness, Restoration Hardware is selling a Parking Meter Alarm that not only helps you remember when it's time to feed the meter but also conveniently acts as a storage spot for those quarters that are always disappearing into your seat cushions when you need them. The spring-loaded holder can hold ten quarters, which ought to be enough for even the most pricey luxury parking meters. The alarm itself can be set for up to 24 hours, and the whole contraption (battery included) will only set you back $12, which is more than worth it to be spared a couple of $25 tickets.
[via Shiny Shiny ]
Note: When you purchase something after clicking links in our articles, we may earn a small commission. Read our affiliate link policy for more details.