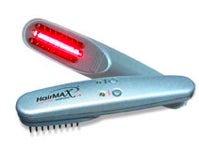 I ask you, what device isn't improved by the addition of lasers? It took somebody of inarguable brilliance to mate lasers with that old standby of hairstyling, the comb. The result: the HairMax LaserComb. Now with FDA approval. We kid you not.
What exactly do you get by putting lasers in a comb? Well, aside from no longer having to choose whether you pack your comb or laser pointer in your carry-on bag, the LaserComb is a "proven" drug-free alternative to combating hair loss. According to the FDA filing:
The LaserComb consists of a hand-held low level laser device that promotes hair growth. The device provides distributed laser light to the scalp while the comb teeth simultaneously part the user's hair to ensure the laser light reaches the user's scalp. When in use, the device emits a beep every four seconds to notify the user to move the device to a new section of the scalp.
Of course, if you want to reap the benefits of LaserComb technology, that'll be $545 for the full, 9 laser version; if you want to shell out a little less, you can spend $395 on the SE, 5 laser version—though be warned, your hair treatments will take longer, and the durability isn't quite as good.
Alternatively, you could suck it up and take hair loss like a man. No lasers required.
[via Engadget ]