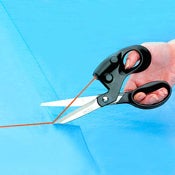 My girlfriend didn't believe me when I explained that I was born with a rare genetic disorder that makes me unable to cut things in straight lines. It's sad, but true. There's even an after school special about it called, um, "Johnny Couldn't Cut Straight." Tearjerking .
But technology has made great strides for those afflicted with CCSS (Can't Cut Straight Syndrome). Among the innovations to assist people like me are this pair of " Lazer Scissors." Lasers, it seem, can cure everything . Now I haven't tried out this futuristic cutting device, but it strikes me that there may be a potential problem here. Despite the graphic above, most lasers that I've seen generate not a line, but a single dot (think of your standard laser pointer). A dot that moves around when you move your hand . I'm happy to be proved wrong, but it seems like this is merely a cruel joke to play upon poor people who already suffer from a terrible, terrible disorder. Way to cheat them out of their $20.
[via Shiny Shiny ]
Note: When you purchase something after clicking links in our articles, we may earn a small commission. Read our affiliate link policy for more details.