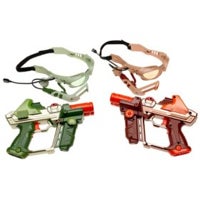 I always wanted a LazerTag set when I was a kid, but that was pretty much never going to happen. Instead, I ended up secretly coveting my best friend's. In the past twenty years or so, though, it appears that LazerTag's gotten both more technologically advanced and, well, let's be frank: lamer looking.
The latest set is the Team Ops Deluxe, which comes with a pair of guns—sorry, taggers —and two heads-up displays in the form of wacktastic looking sunglasses. The set comes preprogrammed with 11 games, with the option of creating your own (would it be too much to hope for "pistol whipping"?).
The gu— taggers come with built in displays that update you on the game's stats, while the HUD shows you when you've been hit or when you've hit your opponent. How much this trip down memory lane? $50 for the set of two.
[via Shiny Shiny ]