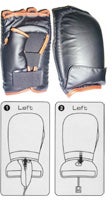 Are you a Wii Sports nut? Do you jump up and down and all around with the best of them, throwing fastballs hard enough to warrant icing your shoulder between innings, or buffing your remote between frames? Then you, my friend, are a perfect candidate for Wii Boxing Gloves.
These accessories hope to make your Wii boxing experience that much more realistic. Simply slip your Wii-mote into one glove and your nunchuck into the other, and you'll be ready to float like a butterfly and sting like a bii bee. Sorry. Just please don't hit your actual flesh and blood opponent. They may not like that, you see, even with padded gloves on.
[via Ubergizmo ]
Note: When you purchase something after clicking links in our articles, we may earn a small commission. Read our affiliate link policy for more details.