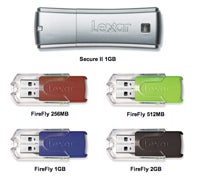 On the flipside of the fireproof, waterproof, bulletproof flash drive comes the announcement that Lexar is recalling 66,000 faulty flash drives that have the potential of "posing a risk of burns to consumers and property damage." So if you've ever wanted a flash drive that doubles as a cherry bomb, snap up one of these before they all get recalled.
The affected models are specifically the 256MB, 512MB, 1GB, and 2GB models of the JumpDrive FireFly and the 1GB flavor of the JumpDrive Secure II. The company will replace affected units with newer models. But what if I want to keep my overheating flash drive? For, um, research purposes.
We used to use Lexar's JumpDrives at my old office, but they wouldn't catch on fire. People would just lose them. A lot. I'm fairly certain that our director was actually eating them. Really, it's the only explanation.
[via Engadget ]