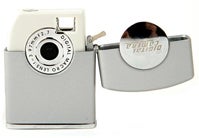 I was obsessed with spy gadgets when I was a kid. Now that I'm an "adult," that obsession has been replaced with one for fancy electronic gadgets. But it doesn't mean that I don't still yearn for my days as a tuxedoed secret agent. So, when a device comes along that combines my adult's enthusiasm with my inner child's wonder, well, it's a surefire hit.
You see, it resembles a lighter, but it's actually a digital camera. Just flip it open and you can take pictures until your heart's content. It requires one AAA battery, and can hold 30 640×480 pictures or 100 320×240 pictures which it will transfer over USB1.1. All for $30.
The only problem I can really see is that I don't think it's actually a functioning lighter. So, after a while people might get suspicious if they notice that you're never actually lighting that cigarette. So, careful out there, 007.
[via SCI FI Tech ]