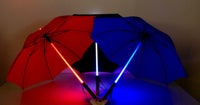 I wasn't sure how much the Korean manufacturer of these light-up umbrellas had intended for them to be referred to as lightsaber umbrealls. Until I went to the product page and scrolled down a bit. First I caught sight of a caption reading "Light Saber Umbrella." Okay. Maybe it's a joke.Then I scrolled down some more to find a picture of Obi-Wan Kenobi fighting Darth Maul. All right then.
Until that, I thought maybe they were echoing more Blade Runner than Star Wars . Oh well. Should you be interested in owning an umbrella that lights up like the sci-fi prop of your choice, you'll be happy to know they can be snagged for around $40, in your choice of white, red, and blue.
The lights are generated by an LED bulb, which is powered by AA batteries. Any more information is pretty much dependent on knowledge of Korean.
[via CrunchGear ]