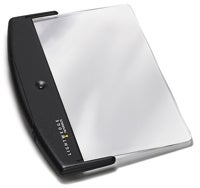 I was always one of those kids that read whenever I got the chance: in bed, in the car, during class in school. Sure, not all of these were actions that ought to have been rewarded, but they are certainly ripe for intervention by technology. I did have an ancient book light that ran on like four D batteries, but that mother was heavy .
What I really could use is something like the LightWedge. This flat light slides behind the page of your book, illuminating it evenly, so you don't have to deal with readjusting your light every time you turn a page. Better yet, it can get around forty hours of use off of 4 AAA batteries, putting my old book light to shame.
The LightWedge is about the size of a mass market paperback, 19×14 cm, and has two light settings that are adjustable with a single button. You'll have to plunk down about $49 for it.
[via Shiny Shiny ]