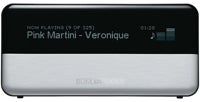 Music aficionados know Slim Devices as the maker of the Squeezebox (pictured), a device that you hook up to your stereo in order to stream music (or Internet radio) from your computer via wired or wireless Ethernet. They've been quite successful in the music placeshifting department—so successful, in fact, that they've now been snapped up by computer peripheral maker Logitech.
The deal went down for $20 million, plus performance-based incentives. Logitech sees the acquisition as crucial to their position in the digital music market.
"With the acquisition of Slim Devices, Logitech is building on our foundation of innovation in digital music and home-entertainment control to address an emerging market," said Guerrino De Luca, Logitech president and chief executive officer. "Our focus is on people who want to listen to and control their digital music, anywhere in the home. Slim Devices brings expertise in both network-based music delivery and high-quality audio, and a committed community of developers. Slim Devices complements Logitech´s existing technology and human-interface strengths, helping to ensure that we can deliver to music lovers the promise of the digital home."
Meanwhile, Slim Devices CEO Sean Adams had this to say:
"Slim Devices will benefit from Logitech's brand, their retail channel, their expertise in developing quality hardware, and their existing portfolio of complementary products such as speakers and remotes…Logitech believes this will be a fast growing segment of their business, and we are looking forward to making that happen."
No word on how this will affect Logitech's
own
music streaming product, the recently announced
Wireless DJ Music System
, which retails for the same price as the Squeezebox.
[via Macworld ]