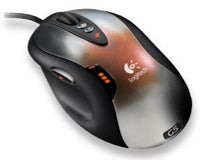 If you're a PC gamer, your mouse defines you. Yeah, the keyboard's important, but it's the mouse that shows just how hardcore you are. Logitech has been at this whole mouse-building thing for a while, and I've been impressed by a number of their products. While it's not necessarily new , I'm thinking of snagging a Logitech G5 gaming mouse that one of my friends has. Not only does it use superior laser tracking for efficiency on glossy surfaces, not only does it boast the ability to switch scanning resolution from 400 to 800 to 2000 dpi on the fly, but it also has a removable, adjustable weight cartridge .
That's pretty crazy. But on the other hand, it does give us a handy excuse whenever we play him in first person shooters. "Oh, well, sure, but have you seen his mouse ?"
Note: When you purchase something after clicking links in our articles, we may earn a small commission. Read our affiliate link policy for more details.