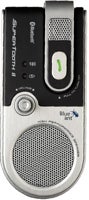 Man, this device was way cooler when I thought it was called 'Sabretooth.' Then again, maybe I'm just dreaming an X-Men fanboy dream. It's still pretty cool; it's a Bluetooth speakerphone that you can carry around with you from car to car, where it attaches to your sun-visor. While not as sweet as built-in Bluetooth speaker-phones, this lets you at least use it in cars where that's not an option.
It's full duplex, meaning you can talk and listen at the same time, and they claim 20 hours of talk or 800 hours of standby on a single charge. The device runs for $130.
To be honest, I still prefer the Bluetooth rearview mirror, but it's not nearly as transportable. Then again, I only have one car, so it's not as much of an issue.
[via SCI FI Tech ]