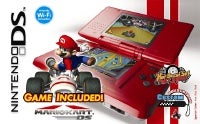 Five minutes after I started playing, I was hook on the cartoonish racing game. The fun of the game was in the competition, which is why I was so stoked to see Mario Kart DS, a version for Nintendo's latest handheld game console, the Nintendo DS. With it, you can play your friends no matter where they are through a wireless Internet connection. I nearly went down to Wally World and picked one up.
Being a geek though, I had to wait for the Nintendo DS Lite which had already premiered in Japan, but not in North America. The long wait may be over. On the 4th, the release date and pricing should be announced. I can't wait. Only problem is that none of my friends have the game and a DS to play it on. Do any of you?
Note: When you purchase something after clicking links in our articles, we may earn a small commission. Read our affiliate link policy for more details.