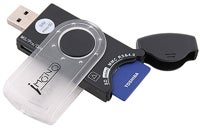 This thing is crazy awesome . First off, it looks like some sort of wacktastic Transformer. Second off, the number of formats of memory cards it reads is insane (in both the brain and membrane): Memory Sticks, MMC, SD, microSD, SIM cards, etc. So, no SmartMedia or CompactFlash, but who uses that crap any more, right? Am I right?
Measuring about the size of a flash drive, it supports USB2.0, and comes in your choice of white or black for just $19. A memory card reader is a pretty handy thing to keep around: I mean, should you ever need to conceal confidential data from spies trying to kill you, you could always hide it on your camera's memory card. I mean, hypothetically .
Shhh. Don't tell anybody I said that.
[via Gizmodo ]