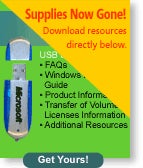 As if I really needed another reason to dislike Microsoft. You see, back at the beginning of March, the folks in Redmond were offering a free flash drive to anybody who completed a quick quiz about Windows licensing. The drive would contain a bunch of information about Microsoft licensing. I figured: hey, I could use a flash drive, and free is about as much as I'm willing to pay for it. Plus, it was about time I got something out of Microsoft.
Turns out not so great . While I completed my part of this Faustian bargain, Gates & Co. have failed to live up to their end of the deal. Namely? No flash drive. To compound their inadequacy, the mail notifying me that I wouldn't be getting a flash drive ended up in my junk mail box; so I might have never known that Redmond was out to short me.
Their excuse? Demand > supply. Simple microeconomics you might say. Still, that doesn't help my flash drivelessness. Microsoft's email invites me to download the reference files on their licensing program from the website, but somehow I'm a lot less interested now. Go figure.
Yes, I could go buy a flash drive. But it's the principle of the thing: don't make promises you can't keep. You're one of the most profitable companies in the world, and you can't scrape up the dough for a few more flash drives? Fine, but don't expect me to buy your software. Even if I do know all about your licensing deals.