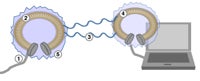 Wireless power? Is it merely a pipe dream, or is there some truth the daydream that one day we could wander all about this glorious world, totally free of any sort of cord tangle. We've had a few companies try to sell us on this utopian future, but nothing that seems to achieve the freedom we truly want.
But that was before the good boys and girls down the road from me at ye olde Massachusetts Institute of Technology stepped into the frame. Those crazy physicists seem to have conjured a way to transport power through the air using nothing more than the property of "resonance." Let's hand it over to Assistant Professor Marin Soljacic:
"When you have two resonant objects of the same frequency they tend to couple very strongly…When you play a tune on one, then another instrument with the same acoustic resonance will pick up that tune, it will visibly vibrate…If you bring another resonant object with the same frequency close enough to these tails then it turns out that the energy can tunnel from one object to another…"
Simple copper antennas appear to be sufficient for harnessing this power. Any energy that doesn't make the transfer would theoretically be reabsorbed by the source antenna; and people are safe, because they—presumably—are not resonating at the same frequency (approximately 6.4MHz).
While the math seems to be accurate, no system or prototype has yet been built. MIT is not the first down this road: nineteenth-century scientist Nikola Tesla attempted the same feat, but ran out of cash for his project. I'm guessing MIT won't face the same problems.
[via Slashdot ]