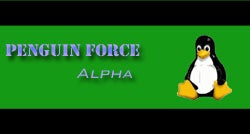 In a world…where Linux on mobile phones is becoming an increasingly fragmented proposition…where one vendor's operating system is another garbage…who can be trusted to help create the definitive mobile Linux developer ecosystem?
One team will go the distance sacrifice everything do what it takes to make sure that the experience is painless for users:
NEC. Motorola. Panasonic. Samsung. Vodafone. NTT DoCoMo. They will band together against in surmountable odds, doing battle with their propietary arch-enemies: Windows Mobile. Symbian. Palm.
Can they win? They have to. Our future is at stake.
They are Penguin Force Alpha . Coming soon to a mobile phone near you. (This consortium is not yet rated.)
Note: When you purchase something after clicking links in our articles, we may earn a small commission. Read our affiliate link policy for more details.