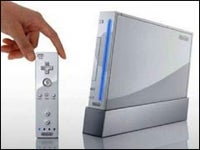 Nintendo President Satoru Iwata spilled some more information on Nintendo's forthcoming Wii console (n&eeacute;e Revolution). We don't have an announcement of shipping date, but we do have an announcement of the date of the shipping date announcement, which is almost as good. Right? Right?
So, yes, the shipping date will be announced in September, a scant few weeks before the console's rumored release in October. But that wasn't all Iwata-san had for us, oh no. The Wii's virtual console, which will allow the downloading and playing of classic Nintendo games from all of the company's prior consoles, plus Sega Genesis and TurboGrafx 16 games, will have games priced between approximately $4 and $8 (the figures Iwata announced were for Japan, 500¥ to 100¥). In addition, the DS will have the capability to act as a touchscreen controller for the Wii, and the Wii will be able to download DS demos from the Wii Connect 24 service that can then be moved to the portable.
As if I wasn't convinced enough to buy a Wii already, integrating with my DS is another great move on their part. Having played some of the games that allow you to use a GameBoy Advance as a GameCube controller (Pac-Man Vs. anyone?), I've got to say I'm intrigued.
Or, to put it a different way: swiit .