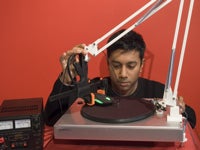 There are so many options out there for mice that it's hard to find one single metric to judge them by—when it comes right down to it, input devices are about as personal as underwear. Don't believe me? Ever been grossed out when you had to use someone's ganky mouse? Yeah, thought so.
The folks at ESReality instead decided to focus on which mouse was best suited to gaming—which, if you will, is the most fragalicious . They picked three categories: Perfect Control, Malfunction Speed, and Dots-per-inch. How did their testing work? Well, they cut a mousepad into a circular shape and placed it atop a turntable over which they clamped a mouse. Crazy? Yeah. Crazy dedicated .
The findings? Logitech's MX500, overclocked to 1000MHz took home the cake with the highest final ranking, as well as the highest "Bang4Buck" award. Of course, if benchmarks and mice float your boat, well, there's a 22 page report to read, so get to it.
[via Joystiq ]