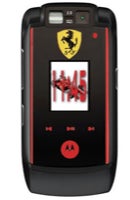 Can we please stop the whole gimmicky cellphone branding phenomenon? I'm talking about Motorola's new RAZRmaxx V6 Ferrari Challenge Mobile Phone Limited Edition, a name so long that I'm totally just copying and pasting it. Motorola teamed up with Ferrari to produce this model which is basically just the RAZRmaxx with a Ferrari logo slapped onto it.
Okay, so it also has a different red lighting scheme and its startup noise is a Ferrari F1 engine (which, I have to imagine, heard through an external cellphone speaker probably sounds more like a lawnmower). Also there's a bunch of photos of Ferraris to use as your wallpaper. This is me doing the big whoop-dee-doo.
Technologically, it's got support for HSDPA, a 2 megapixel rear camera and VGA front camera. It'll drop on January 29th for $635 before subsidies. Hey, Ferrari, stick to making cars, not silly deals, capiche?
[via New Launches ]