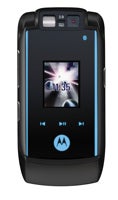 I don't know what's gotten into Motorola today, but it's like they've opened the bomb bay doors and dropped a payload of telephony into our laps. We'd previously discussed both the forthcoming RAZR 2 (Canary) and RAZR Slider (Capri), both of which have been officially announced today, along with the RAZR MAXX (pictured).
Canary, officially named the Motorola KRZR (Krazer?) boasts a tri-band GSM plus EDGE chip or CDMA with EVDO, a 2 megapixel camera, a 176×220 screen, microSD slot, stereo Bluetooth audio, and is a full centimeter less wide than the RAZR.
Meanwhile, Capri (now known as Motorola RIZR) has the same features for the most part, with dimension at 45.5×105.5x16mm.
Finally, the RAZR MAXX has a 3.5G HSDPA high speed connection (Cingular's the only HSDPA provider in the US, so that's where this is probably heading), with a 2 megapixel camera and a VGA camera, that can apparently be used for video conferencing. You'll also find illuminated play/pause, forward, and back buttons on the phone's lid for listening to music (50MB internal memory, plus the microSD slot). Finally, there's a 120×160 pixel screen and it's a wee bit bigger than the original RAZR.
Whew. That's a lot of phonage. Maybe it's time for me to think about upgrading.