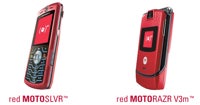 Bono's PRODUCT (RED) project aims to help combat AIDS in Africa, and the U2 frontman has struck deals with a number of vendors to create red-themed products, part of whose proceeds will go to the cause. Apple introduced a red iPod nano just last week, and now Motorola has unveiled red models of two of its most popular phones: the SLVR and the RAZR.
The phones are more or less identical to their non-red counterparts, but a percentage of their cost will be used to support the fight. The RAZR will be available only via Sprint in November for $305, or $65 with a two year contract—meanwhile, the MOTOSLVR is exclusive to the UK, where it's being sold in cooperation with a number of partners.
With the RAZR and the iPod nano both going red, two of the most iconic consumer electronic devices in the world are behind this cause. Here's hoping they can make a significant impact.
[via Digital World ]