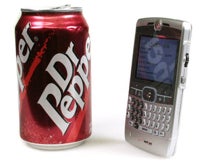 My feelings for smartphones notwithstanding, the Motorola Q is one slick-looking device. They've brought a hint of the stylings from their slim phone offerings, the RAZR and SLVR, and merged it with a QWERTY-style keyboard and large colorful display.
But how does it work? PC Magazine got their hands on a Verizon-branded model and put it through its paces. As a smartphone, the Q comes up aces: good voice quality, excellent web browsing and email, and music playing features. This sucker is even pretty useable with just one hand. Fantastico , you might say. Where do I sign up?
Not so fast there, gunsmoke. While the Q may be all bright and shiny, the cloud cover comes from Verizon's smartphone service plans, the cheapest of which clocks in at $79/month. You can also add an unlimited data plan for the Q onto an existing cellphone plan for another $40/month. While none of this may be outrageous as far as your average business user is concerned, Verizon is marketing these at consumers, to whom an additional $40/month is the equivalent of another cellphone.
In terms of the competition, the Q's stiffest rivals are Palm's 700 line, the 700w and 700p (which we've discussed before ).
[via Gizmodo ]