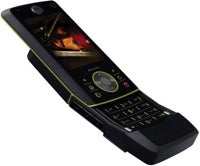 Motorola's apparently out to hold onto its crown for sexy cellphones. The folks who brought us the RAZR, the SLVR, and the SCPL are now rolling out the MOTORIZR Z8. What are the ingredients in this delicious new handset?
Well, if we're taking it strictly by the numbers, there's 90MB of internal memory, expandable via microSD card, a 2 megapixel camera with 8x zoom, a 2.2″ screen, Bluetooth, all packed into an HSDPA package. It also supports email, two-way video calling, and a veritable alphabet soup of messaging protocols.
But it's the slick form factor of Moto's latest handset that's liable to rack up the praise (or criticism). The bottom part of the phone curves, molding more comfortably to your face—think of it as clamshell meets slider. Expect it to be the phone all the characters on TV are carrying—at least until the iPhone comes out.
The Z8 is expected to show its head this spring, though price, carriers, and regional availability haven't yet been released.
[via SCI FI Tech ]