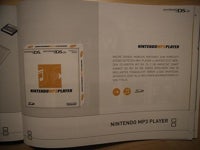 Looks like the latest competitor to Apple's iPod may come from a little console we all know and love. And when I say "we", I mean Derik, myself, and the myriad other Nintendo DS owners I saw at Penny Arcade Expo (I kid you not, the ratio of DS:PSP was ridiculous ; I think I saw maybe half a dozen PSPs and hundreds of DSes).
According to a brochure from Leipzig's Games Convention, the newest addition to the console from Nintendo appears to be an MP3 player. The player will slip into the GameBoy Advance slot (and also apparently be compatible with GBAs), but to store music you'll need to use SD cards (up to 2GB supported). The unit will also feature its own headphone jack (thus continuing the "dual" theme of the DS). At the moment, it's coming to Europe only, with a price of about 30 Euros, available in early October.
What's with the lack of love for us US DS lovers? We get no MP3 player, no web browser, no digital TV tuner. Come on, Nintendo, there's a fortune to be made here! We in the US love to buy .