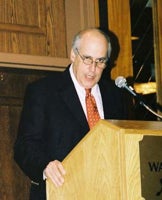 Update: And, of course, like many things that seem too ridiculous to be true, this is actually satire. My apologies for misleading you, but honestly, anybody out there think the MPAA is really too crazy to try this?
Motion Picture Asses of America, unite. If the MPAA gets its way, you might soon be shoveling money directly into their pockets. Concerned about the proliferation of home theaters in living rooms across America, the MPAA is trying to convince our esteemed Congress to pass a bill which would require home theater owners to pay a registration fee of $50 or risk fines of up to $500,000. For what offense? For showing DVDs, of course. Here's MPAA chief Dan Glickman (above), whose brain has clearly had its insanity dial cranked:
"Just because you buy a DVD to watch at home doesn't give you the right to invite friends over to watch it too. That's a violation of copyright and denies us the revenue that would be generated from DVD sales to your friends," said Glickman. "Ideally we expect each viewer to have their own copy of the DVD, but we realize that isn't always feasible. The registration fee is a fair compromise."
You have
got
to be fracking kidding me.
If you're wondering what constitutes a home theater, the MPAA would like the definition to include any setup with a screen larger than 29″, stereo sound, "at least two comfortable chairs, couch, or futon." You know what, MPAA? Bite me . I would sooner remove all comfortable furniture in my house than pay you any sort of fee. This law gets passed and I swear I will never buy another DVD ever again . Even though my TV's only 27″. Solidarity, baby.
[via Slashdot ]