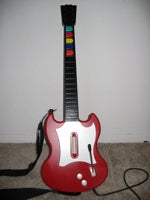 The weekend is the time when we dedicate ourselves to catching the stories that may have fallen through the cracks earlier in the week. For example, this bit about MTV scooping up game company Harmonix. Harmonix is a local company for me (they're based in Cambridge) and they're best known for creating the Guitar Hero series.
I hadn't played Guitar Hero until quite recently, but the game is pretty awesome. For those of you unfamiliar with the concept, it's a PS2 game where you have to play along with a song by hitting the right notes at the right time. The controller used is shaped like a guitar (seen above) and it's tough to get started, but addictive fun once you've played a couple times.
Anyway, Red Octane, the game's publisher, was also bought recently, in their case by uber-publisher Activision. Guiter Hero II is due soon—I saw a demo of it played live at PAX last month. Here's hoping that MTV and Activision can combine to make the games even better, and not fade it into obscurity like MTV itself.