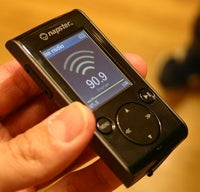 Taking a page from the playbooks of cellular phone providers, music purveyor Napster has begun offering free/cheap music players to users who sign up for a year long subscription to their music download service. The player comes in two flavors: a free 256MB flash player, and a 1GB player that costs $50 after the 1-year subscription.
Of course, both players are compatible with Microsoft's "PlaysForSure" DRM scheme, but they also seem to support vanilla MP3 and WMA files. In addition, the 1GB player features a color screen, and can display JPEGs and play MPEG4 videos, though no video content is available on Napster's service. The 1GB model also has a built-in FM tuner for listening to the radio while you're on the go.
Engadget got their hands on the 1GB player and gave it a thumbs up:
…everything is accessible via a convenient and fast iPod-like menu system. We'd estimate the player is 10-12mm thick, but while it's shorter than the iPod nano, the player felt comfortable in our large hands, and the buttons were plenty easy to use. It might all come down to your preference of music service, but we can't see this little OEM player standing in your way.
It's an interesting idea, and as I noted above, one that's worked pretty well for cellphones providers. Whether it'll be enough to take a bite out of the music monolith that is Apple remains to be seen.