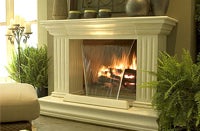 I wanna meet the guy whose brilliant idea was: "Hey, you know what my fireplace is really missing? A waterfall. " You sir, are a genius of the first order. Yes, to you or I, the idea of combining fire and water would seem, how can I put it, stupidorific . But to the people at Hearthfalls, it sounded a little more like " ch-ching ." Even better, you can order one made out of wood , which leads me to hope that everybody foolish enough to spend the roughly $2000 it costs to install one of these will quickly reap their karmic rewards when their fireplace catches on fire. Here's a tip: save the two grand and pick up one of those t-shirts that reads "I'm with stupid."
Now all it needs is a fan and a compost heap to truly represent all four elements of the natural world. Because nothing's better than a flaming pile of wet garbage blown all over your living room. It's like getting back to nature.
[via Oh Gizmo! ]
Note: When you purchase something after clicking links in our articles, we may earn a small commission. Read our affiliate link policy for more details.