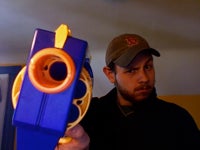 The other day, I was remarking about picking myself up a Nerf Longshot CS-9. Turned out I need to pick up some weaponry to complete my Halloween costume, so I drove over to Target yesterday to ogle the artillery. Given its prominent position in the Nerf Rules of Engagement, the Nerf N-Strike Maverick seemed a logical choice. And at $8, it was a no-brainer. I've had it for about a day now. Impressions? Fantastic. The range on this sucker is easily a good twenty-five to thirty feet, and the suction darks are actually effective, though they work best on glass surfaces. Overall, the gun is pleasantly hefty and well-constructed. My few gripes are that the barrel doesn't swing out/stay out for easily loading the darts, and that the gun itself isn't semi-automatic; i.e., it requires that you cock it prior to each firing.
But other than that, this is an impressive piece of Nerf weaponry. So far, I've mainly just used it shoot annoying people on television. That has its own satisfaction, of course. Then again, I think my neighbors across the way are beginning to worry about the fool prancing around with what looks like a loaded gun.
Note: When you purchase something after clicking links in our articles, we may earn a small commission. Read our affiliate link policy for more details.