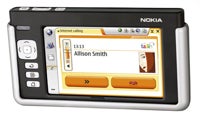 We mentioned the other day that we were expecting a revamp of Nokia's 770 Internet Tablet, but it turned out the Finns pulled a fast one on us. The new Google Talk integration that was widely touted will indeed be added, but it will be made available via a software update and not new hardware.
In addition, the 770 adds an onscreen keyboard and compatibility with SIP-based VoIP solutions; also appearing soon will be a client for open-standards based VoIP software Gizmo Project. These updates are part of what Nokia is deeming "Internet Tablet 2006 OS," which will be available as a free download to current 770 owners in the next few months, and will also be installed on newly shipping 770s.
[via Engadget ]
Note: When you purchase something after clicking links in our articles, we may earn a small commission. Read our affiliate link policy for more details.