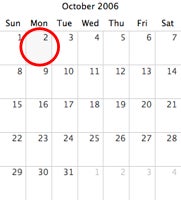 I was wondering the other day if Apple had fired the guy who wrote their amusing documentation, but I think I found him. Apparently, he's taken up writing Nintendo's press releases. How do I know? Well, read the first paragraph of their most recent missive:
The fourth quarter of 2006 will herald a new era for Nintendo with the launch of its remarkable new Wii™ home video game system. But that's not what this news item is about! How could that be, you ask? Perhaps the secret to the launch information for Wii is somehow encoded in the text of this news item. You might want to pore over it for a few hours before staying up all night to debate phraseology and comma placement with your friends online. Or maybe it's all just a scam to get you to read the other games we have launching this fall. One of the two.
That said,
some members of the web's gaming community think they have indeed cracked Nintendo's code
:
Gaming Target was one of the first to figure it out, noticing that at least one new game was being released every Monday in the fourth quarter except for October 2, November 20, and November 27.

November 27 is after Black Friday, the traditional hottest shopping day of the year, so it can be discounted. November 20 is after the launch of the PlayStation 3, which seems unlikely given Nintendo's desire to get a jump on its old rival. This leaves October 2 as the most likely launch date for both the Nintendo Wii and the new Zelda.
Mark your calendars for 10/2/06, then (in America, anyway). Meanwhile, we'll be scrutinizing our copy of
The Last Supper
for further insight.