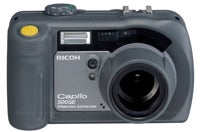 Convergence strikes again! Ricoh's new camera is almost as cool as Samsung's HSDPA shooter and far, far cooler than their 180 degree rotating screen. Not that that's a particularly difficult feat to accomplish, mind you.
Anyway, the Ricoh 500SE boasts an 8 megapixel resolution, and a 2.5″ LCD screen, as well as a ruggedized, waterproof exterior. Heck, it's even got Wi-Fi built-in, for transferring pictures to your computer and Bluetooth for talking to your mobile devices. And rounding out the trifecta of wireless technologies? GPS, baby. The 500SE comes with a detachable GPS unit that can be used to location-stamp your photos, but should you have an external GPS device that has Bluetooth, you can use that too.
All these features won't come cheap: the 500SE is available in Europe right now for about $1,200. Should you wish to ditch the Wi-Fi, that'll bring the model down to a much more affordable, er, $1,100. Oh what the heck? Go nuts!
[via SCI FI Tech ]